Giff steped outside the door with a yellow rain jacket on, he left the porch and notices a small package with a note attatched to it. He picked it up and it read:
---
" frightened you shake at the very thought, crouch and hide
you are next
the one of sweet blood
the fearful
the hunted
THE MARKED ONE "
---
A bit nervious that someone was writing him creepy letters, he shakily opened the package.....
a talisman on a chain: It has a 6 pointed star with an eye in the center that is completely lifesize. This was strange, noone should even know he lived here, he shortly commented,"This kinda sucks".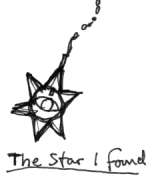 There was another note inside:
---
"Look inside your eye and turn the top point
YOU ARE the MARKED
---
Giff nerviously put the eye and the notes in his pocket, it could have only been a bad joke.